He says that "Yuhang is a good land for innovation and entrepreneurship with vast development prospect; and he would sincerely invite enterprises to make investment and entrepreneurship in Yuhang; we would spare no effort to build up a top environment of innovation and entrepreneurship for you all."
In the"2020 Ebrun Future Retail Conference·Global Cross-border E-Commerce Private Sharing Conference and Government Enterprise Forum of Hangzhou Cross-border E-Commerce Comprehensive Experimental Zone"held by Ebrun on the afternoon of October 16,2020,the chief economist of Yuhang District Bureau of Commerce,Pan Fengfeng,delivers a presentation speech, "Yuhang,A Dream Land for Innovation and Entrepreneurship".He says that"Yuhang is a good land for innovation and entrepreneurship with vast development prospect;and he would sincerely invite enterprises to make investment and entrepreneurship in Yuhang;we would spare no effort to build up a top environment of innovation and entrepreneurship for you all."
Warm tips:This article is a draft of shorthand,which ensures the original intention of the guests at the scene.Please understand.
Here are the speech documentary of Pan Fengfeng: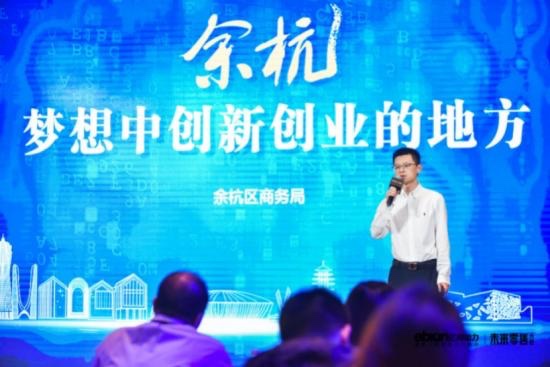 The 5th "Innovation and Entrepreneurship"activity week has been held in Yuhang,Hangzhou,successively.After the activity week,Yuhang makes a plan according to the provincial and municipal decisions.It is suggested to build up a leading area of national"entrepreneurship and innovation"demonstration city to be a real"dream land for innovation and entrepreneurship"for all investors and talents.In the building of leading area of national"entrepreneurship and innovation"demonstration city,Yuhang has the following advantages.
I.Yuhang is a saint place of Chinese civilization and an area of innovation energy
In the last July 6,Liangzhu Ancient City has been enlisted inWorld Heritage Site,which sets a critical icon of 5000 years of Chinese civilization in the world.Yuhang always insists a development of"talents leading and innovation driving"to achieve the"leap forward development of regional economy and society".In 2019,the whole district achieves the gross production of 282.4 billion yuan with an increase of 8.6%.It has completed the financial total income of 72.65 billion yuan with the increase of 16.5%.Especially,under the high-tech enterprises led by Alibaba Group,the added value of core industries in digital economy reaches 164.85 billion yuan with an increase of 15.2%,accounting for the 43.3%of the whole city.Since from the year,Yuhang tries its best to overcome the impact of COVID-19 to accelerate the recovery of economic development momentum.The GDP of first half year of the whole district is 2.8%increased to achieve the total fiscal revenue was 54.12 billion yuan with an increase of 8.07%.The major economic indexes are turned from negative to be positive.
Along with the popular urban brand of"saint place of Chinese civilization and an area of innovation energy",the attraction of Yuhang to the outside has been increasing.In 2019,288000 people flowed into Yuhang of the 554000 new permanent residents in Hangzhou.Until now,more than 5600 overseas high-level talents have been introduced to the district,including 164 national overseas high-level talents and 238 provincial overseas high-level talents.In last year,100500 new market entities were added with the year-on-year increase of 122.68%.It has been affected by the COVID-19,but 31200 new market entities are still added with the year-on-year increase of 33.55%in this January-July.
II.Yuhang is important gateway of Hangzhou,a bridgehead integrated with the development of Shanghai
Yuhang has significant advantage.The central city of Hangzhou is defended from east,north and west.There are 14 streets and 6 towns,covering an area of 1228 square kilometers.The actual population is more than 3.2 million,which is nearly 200 thousand increased than that of last year.Seen from the Yangtze River Delta,Yuhang locates in Hangjiahu Plain and the southernmost end of Beijing Hangzhou Grand Canal.There are two high-speed rails,Shanghai-Hangzhou and Hangzhou-Ningbo and seven highways crossing through the district.With the help of highway and railway,it could go to Shanghai,Jiangsu and Anhui.It is the natural bridgehead of Hangzhou to connect with Yangtze River Delta and linking with Shanghai.It takes only 45 minutes for the the train from Yuhang High-speed Railway Station to Shanghai Hongqiao Station.
III.Yuhang is equipped with platform economy and vast development space
Platform economy is the biggest feature of Yuhang.The district is arranged with five industrial platforms,including Future Science and Technology City,Yuhang Economic and Technological Development Zone,Linping New City,Liangzhu New City,Qianjiang Economic Development Zone.The five platforms have been the main force to lead the industries in Yuhang to"ride the wind and waves".
It is gathered with a batch of key equipment for scientific research,including Zhijiang laboratory,Liangzhu laboratory,lakeside laboratory,Zhejiang University high-end equipment research institute,China France Aeronautical University.A large number of university resources such as Zhejiang University and West Lake University are also gathered around to provide innovation motivation of development.
It is gathered with a batch of major innovation platforms,including Dream Town,Biomedical High-Tech Park,Mengqi Town,Yishang Town,Artificial Intelligence Town,5G Innovation Park,etc.,so as to provide a vast space resource for investment and development.
It is gathered with a batch of major innovation projects.There is a target based on building"dual engines"of digital economy and new manufacturing industry to attract and cultivate a great number of quality projects,such as Alibaba DAMO Academy for Discovery,Global AI Headquarter of Vivo,Oppo Global Terminal Headquarters,Byte Dance Hangzhou(Yuhang)R&D Center,Global Headquarters of UBTECH.All of these would provide motivation support for the future development of Yuhang.
IV.Yuhang is catered with good ecological environment and top business environment
In the past few years,Yuhang greatly pushes the innovation development of the whole area and it also thinks highly of the natural ecological advantage of the utilization of"four mountains,one river and five fields"natural ecological advantage.It is equipped with Liangzhu Cultural Relics,Buddhist Holy Land Jingshan and other historical and humanistic advantages to push the integrated development of culture and tourism.It tries to build up"beautiful garden in the whole area".The green development index leaps to the top in the province.
The district insists to be led by"governance modernization in the whole area".It thinks highly of integrating the idea and method of"running one time at most"to all aspects of regional governance.Since from a long time,Yuhang adheres to the idea that"I would be responsibility of sun and rain and you just need to grow up rapidly"to fully support the development of enterprises and talents.For example,proceeding a reform of one-day completion for normalized enterprise issues,setting up special counters for enterprise business,reducing the working materials to four copies,reducing the handling time from 3.5 working days to 1 working day.And it is strict with the issue that there is"90 days maximally"of the project approval for enterprises to push the earlier starting,earlier landing and earlier application of key investment projects in our district.
In view of industrial development,Yuhang also issues 66 policies of innovation in the whole area.It begins from 6 aspects to practically support innovation and entrepreneurship,aiming to build up a"rainforest"talent ecology to highlight the development advantage and to make up the shortage of the development,so as to push a sustainable development of economy with high quality.For cross-border e-commerce,policies have been issued since 2014 and the fourth improvement has been completed.In this year,the district works with Alibaba to release a policy of"Ten Policies of Yuhang for Spring Thunder Plan"for the epidemic.
For example,the logistics cost of cross-border e-commerce will be subsidized up to 500 thousand yuan per year;oversea warehouses will be subsidized up to 1 million yuan per year;enterprises will be subsidized up to 500 thousand yuan per year according to the turnover;the talents of e-commerce enterprises will be rated to be D,E,F talents to enjoy housing and other related policies;the e-commerce enterprises with the actual contribution of 200 thousand yuan will be awarded with 60%-80%according to the contribution within three years.
Yuhang is the hot land for innovation and Entrepreneurship with vast development prospect.We sincerely invite all of you to come to Yuhang to make investment and entrepreneurship.We will spare no effort to create a top environment of innovation and entrepreneurship for you to mutually push our own business to achieve the new leaping and new development.
[Statement] The article is the author's independent view and does not represent the position of this website.